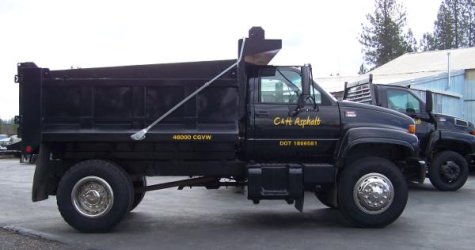 C&H Asphalt has been serving the Spokane area for over eighteen years, here at C&H we strive to do the very best job and we stand behind our work.
Need your asphalt driveway and parking lot repaired?
Not a problem with XLR8 Premium sealcoating we can make it look like new! Have a nasty crack, pothole, big patch, or just need your lot striped ? Just give us a call C & H does it all.
Give us a wave, you can't miss us driving around town, just look for the big black trucks!
Asphalt Repair/ Patching:
An example of Asphalt Repair and Patching is those pesky Potholes. Potholes are holes in the roadway that vary in size and shape. They are caused by the expansion and contraction of ground water after the water has entered into the ground under the pavement. When water freezes, it expands. If it has a chance to freeze, it will take up more space under the pavement, and the pavement will expand, bend, and crack, which weakens the material pavement. Then when ice melts, the pavement contracts and leaves gaps or voids in the surface under the pavement, where water can get in and be trapped. If the water freezes and thaws over and over, the pavement will weaken and continue cracking. As the weight of cars and trucks pass over the weak spot in the road, pieces of the roadway material weaken, which will cause the material to be displaced or broken down from the weight, creating the pothole.

The best way to avoid a pothole is to keep your parking lot maintained, such as Asphalt Repair/ Patching and Sealcoating. C&H Asphalt is committed to helping you keep your roadway pothole free and look great! Ask about our maintenance program today.
Asphalt Speed Bumps:
Asphalt Speed Bumps assist in slowing down speeding vehicles on community roadways. C&H Asphalt can install all types of speed bumps. We can install asphalt speed bumps any width and any length we also do install rubber speed bumps! C&H will paint installed speed bumps using D.O.T approved traffic paints.

Asphalt Sealcoating: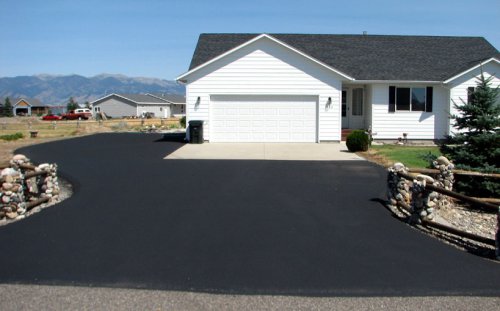 Sealcoat serves to seal the top of the asphalt, preventing water from penetrating the surface of the pavement and protecting the top layer of asphalt from oxidation and wear caused by exposure to the sun and air.

On older pavements Sealcoating replaces fine particles lost from the asphalt surface due to oxidation. Sealcoat seals the small cracks that can turn into large cracks and prevents water from seeping down to the base material seal coat helps protect the asphalt from the sun as well as the harmful effects of chemical spills such as oil and gasoline. Sealcoating provides an attractive black surface that is ideal for painting lines and other markers. It also leaves a smooth, clean surface ideal for sweeping, lowering cleaning costs.
Hot Rubber Crack Repair: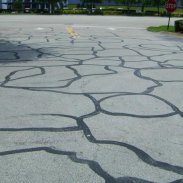 Hot Rubber Crack Repair is the processes of injecting a hot pour rubberized sealant into isolated cracks in the asphalt pavement to prevent water from penetrating the sub-grade and stone base.
Cracks in asphalt allow water under the pavement which causes the base to become unstable during the freeze thaw cycle. Unstable base leads to more cracking and eventual pavement failure. Cracks which form intersections are a pothole waiting to happen.

Crack filling season begins in April and ends in November depending on the weather. It is best to maintain the cracks going into the winter months when the cracks in the asphalt are as wide as possible (In the colder months cracks expand and in the summer months, cracks contract). With the C&H maintenance plan we can come fill the cracks yearly to avoid any further damage. Ask us about our maintenance program today!
Parking Lot Striping: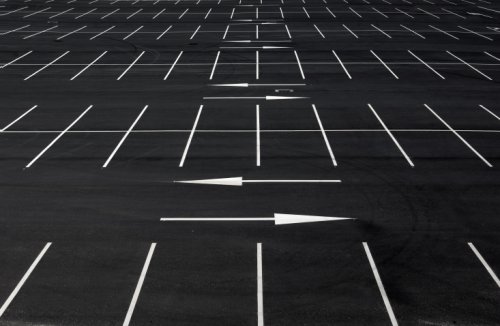 The repainting (striping) of an asphalt lot usually takes place every one to two years depending on the amount of wear and tear made by people driving on the asphalt paved lots.
Not only does striping give your lot a clean and professional look, your lot will be much safer for pedestrians.
By using high quality paint, your lot will be clearly marked for walkways, handicapped parking space, loading zones, new parking lot striping, re-striping or adding additional pavement markings (directional arrows), stenciling, curb painting, speed bump painting, fire lane marking or additional handicap spacing. C&H does it all.